Brooks Carbonite Fall 2021 Apparel Review
What You Need To Know
Reflective outerwear for nighttime and ealry morning unning
Utilizes 3M Scotchlite Carbon Black Stretch reflective tape for exceptional reflectivity
Collection includes jacket, long sleeve, tights, and gloves
ALEX: The Brooks Carbonite Line feels like the product of a road construction-wear-themed Project Runway episode. The attention to detail, trendy cuts, and high-performance materials work together to produce gear that I plan to spend a lot of time in over the coming months. I compete in races like the Arrowhead 135, and the 3M Scotchlite Carbon Black Stretch reflectivity features in this collection are just the ticket for races where reflective pieces are a necessity. 
BRANDON: You would not believe your eyes… if 10 Million Fireflies lit up the world as I fell asleep (sorry, I know that song is terrible). Well, now you too can light up the world in the Brooks Carbonite Run Visible Collection. This collection of slick-looking fall and winter gear is sure to keep you safe when running at night or during those early morning long runs. Not to mention the gear is pretty comfortable and provides ample apparel options to mix and match for optimal performance in multiple weather conditions. Whether it be the hottest of days or colder than that one time as a kid you tried to hide in the fridge during a game of hide and go seek… was that just me? Ermm.. moving along.
---
〉Carbonite Jacket (Women and Men)
ALEX: This jacket is damn good. I love the color block pattern, as it makes the design so sleek. The Carbonite jacket is designed to provide high visibility and protection from water and wind (warning: this isn't a rain jacket). It's made of a breathable DriLayer Seal material and features a foldable hood, two zipper pockets, and a chest pocket. Ventilation is key in a jacket, and the Carbonite promotes it with two snap-closures to regulate body temperature on long days out. The 3M reflective tape down the arms allows you to be visible up to 600 ft away. Pro tip: go up a size for a more relaxed fit and to be able to layer more underneath. 
BRANDON: Looking for a futuristic spacesuit that was meant for going to the moon and running fast? Well, Brooks has you covered. The Carbonite jacket is the most involved and detail-oriented of all the items on the list. The jacket is made up of a slick white base with various black, and neon accents to help you stand out in the crowd. This jacket offers the same 360-degree visibility featuring 10 reflective strips around the entire jacket. And oh boy does this jacket have pockets, 3 to be exact.
Where the Hybrid pants don't have enough pockets the jacket makes up for them with two around the waist and one on the chest. Each one can carry a phone, earbuds, or gel on the run. The Carbonite jacket is light and airy and can sustain mild rain and wind on your runs. While not the warmest jacket in the world, pair it with the Notch Thermal long sleeve and you're golden. For $180 you can snag yourself a pretty impressive running jacket, which isn't bad considering the durability and top-level performance. 
PRICE: $180
Shop Jacket – Women
Shop Jacket – Men
---
〉Carbonite Tight (Women and Men)
ALEX: These tights come fully loaded with the 3M Scotchlite Carbon Black Stretch reflectivity in critical motion zones. The fabric is warm and breathes well, making them perfect for cool, shoulder season runs. The envelope pocket in the back securely fits most phones. The Carbonite tight doesn't have a drawstring but the next-to-skin fit gives me confidence that the tights aren't going anywhere. They feel relatively compressive and sit at just the right height on my waist and provide great coverage.
BRANDON: I love a good running tight. In fact, I usually prefer tights over the standard running sweatpant. The Carbonite tights perform at their best when running in low-light situations on those colder days. They provide a standard lacing system around the waist for a custom fit. Moving to the back, these tights have a built-in pocket big enough for a smartphone, wallet, keys, gel or any other grab-and-go items you might need.
Whatever the situation, these tights can help do the trick. My only knock on 'em is that they don't quite taper the way I'd like around my ankle. Aside from that, the fit around the waist and thighs is perfect. Topping it all off are 4 3M Scotchlite reflective pieces that can be seen from a car over 600 ft away. Safe to say I felt good running in these. For a fair price of $130 dollars, they might just be the fall tight you've been looking for.
PRICE: $130
Shop Tight – Women
Shop Tight – Men
---
〉Carbonite LS Shirt (Women and Men)
ALEX: The Carbonite Long Sleeve is a super comfy layer with a semi-fitted, stretchy feel. Thumbholes and a small zippered pocket on the side make this garment super functional. The long sleeve has the same 3M taping as the Carbonite Jacket, making it a great standalone layer for your low-light runs. This shirt sits right at the waist and feels noticeably shorter than other base layers. Paired with a higher waisted tight, you get adequate coverage from cooler temps, but overall I wish it fit a bit longer.
BRANDON: I usually love a good long sleeve, more so than a short sleeve, but this one just seemed to miss the mark for me. The Carbonite long sleeve fits well and is true to size. The sleeves offer thumb holes which are always nice when layered up with gloves on a cold day. Brooks once again offers 360-degree visibility with a whopping 10 reflective strips in all areas. I even dig the bright white and neon look. Even with a few likable features, I just can't get over how scratchy the material is. This long sleeve might be a chafing nightmare waiting to happen. You can pick up this shirt for $100, but there might be better options by Brooks for around the same price or cheaper.
PRICE: $100
Shop Long Sleeve – Women
Shop Long Sleeve – Men
---
〉Notch Thermal Hoodie and LS (Women and Men)
ALEX: This is a super comfortable, soft, thermal mid-layer, and I'm loving the Bolt Blue color. The Notch hoodie is semi-fitted and consistent with the Carbonite line, sitting right at the waist. The thumb holes are great for a stay-put fit when running and layering, and two hand pockets store small items with the internal stash pocket holding keys. Brooks claims that the antimicrobial finish will keep the shirt fresh between washes. Time will tell, they haven't met my post-run stench. 
BRANDON: Introducing the Carbonite long sleeve's better-looking cousin, the Notch Thermal long sleeve. This is by far one of if not my favorite product on this line. For only $80 dollars, this garment is a must-have in the arsenal. The Notch Thermal is warm, comfortable, and all-around a sharp-looking product.
The fit is made for performance but won't have a too tight or restrictive feel, and is optimal for layering over a t-shirt or under a rain jacket. Brooks didn't shy away from the details on this one with a hidden zip pocket on the left arm which can fit some cash, a key or a pair of earbuds. Not to mention, the thumb holes are always a nice touch. The Notch Thermal is made for running, but really shines after that Sunday long run or a busy workday. Treat yourself and pick this one up. 
PRICE: $90
Shop Notch LS – Women
Shop Notch LS – Men
---
〉Switch Hybrid Pant (Men)
BRANDON: While not part of the Carbonite line, the Switch Hybrid pants are worth mentioning because they're just that dang good. Not only are they comfortable, but they look great and are built to endure the harshest of weather conditions. I have to start by saying that the fit of these pants are beyond incredible. From waist to ankle, the pants wrap perfectly snug. 'Hybrid' is an apt name due to their multi-use as running or athleisure pants.
Whether going for an 8-mile run, a trip to the grocery store, or some yoga on a crisp day, these pants are there to do it all and do it well. Where the Switch Hybrid pants really shine is through their durability, with an all-over DWR treatment which makes them resistant to both rain and wind. My only complaint about these pants is the lack of pockets. There's only 1 pocket around the back, and I wish there were 2 on the sides to put my hands in. 
PRICE: $130
Shop Switch Pant – Men
---
〉Fusion Midweight Gloves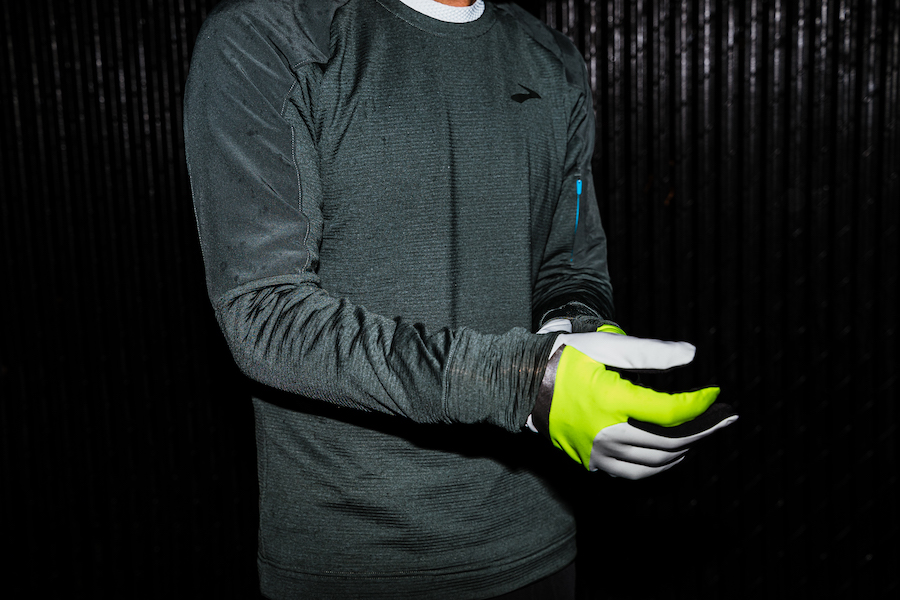 ALEX: This tech-compatible glove features mesh ventilation and magnetized cuffs rather than that annoying clip. The Fusion gloves are warm and comfortable on their own and will work great as a liner glove when the temps really drop. 
BRANDON: Running gloves, the one thing you don't ever think you need until you desperately need it. So many runners discredit the idea and don't think a nice pair of warm running gloves are necessary. Let me tell you, they might just be the difference-maker between an enjoyable run and a crappy run. Each glove offers a slick white and neon design with a powerful reflective strip running through the middle of it.
The gloves are tech compatible with phone-friendly fingertips so you can text your loved ones or FaceTime your dog on the go. The most interesting and unique aspect of these gloves has to be the magnetized cuff. Tiny but strong magnets keep your gloves together for easy storage and handling. For only $34 dollars these are an easy snag for when the cold comes knocking. 
PRICE: $34
Shop Fusion Gloves
Alex is an ultra runner who lives for the long, cold Minnesota winters. She works in public health and enjoys applying creative problem solving to emerging health and environmental issues faced by local communities.
Apparel
Brooks
Cold Weather
Fall
Winter