Best in Gear Awards: Best Road and Trail Running Gear of 2022
What You Need To Know
Our list of top road and trail running gear of the year
From shorts to hats and even food, we got it all
Not all of our picks come from 2022, but we stand by them
Agree? Disagree? Leave a comment below
There it is, another year come and gone. We might not be any wiser, but we're definitely older and probably more opinionated — at least about running gear. After all, this was our biggest year yet. We had bigger GRIT turnouts than ever, ran the New York City Marathon with New Balance, and so much more. Sure, our shoes carried us through the miles, but we had just as much clothing to keep us ready for the elements. With the holidays coming up, it only feels right to present our Best In Gear Awards. This time around, we've got the best running gear of 2022.
We're not gonna lie to you — there are a lot of familiar names on this list. Call us creatures of habit if you want to, but sometimes it's tough to beat the best. Whether it's Tracksmith's continued domination with the Brighton Base Layer or Rabbit's trail-ready Shredders, there are just some products we keep coming back to year in and year out. Of course, there are new faces, too. Ciele took the plunge into some new elite apparel, and Bandit Running launched a full range of gear for running and recovery.
As with everything else, 2022 was the year of some pretty expensive gear. It's not hard to find clothing or accessories that will set you back more than $100, and we don't all have the budget for that. Sure, Ciele, Rabbit, and Tracksmith make some great stuff, but how do you know what you actually need? That's where this list comes in handy. Instead of buying up everything on a Black Friday sale, we've done most of the testing and can recommend the best of the best.
So, you might be wondering where our picks come from. Well, just like with our best road running shoes and best trail running shoes, we put it to a vote. We selected all of our categories and had our team list a top pick and an honorable mention. Then, we put everyone in a cage match to see who would come out on top. The winner got to list their choices for each category, and now we're here writing about it. That's not really what happened, but it'd be wild if it did. In reality, our picks don't reflect the preference of any runner but our team as a whole.
We're ready for whatever 2023 may hold, and we know we have the best running gear to see us through. Thanks for hanging with us, and we hope to see you in the new year.
---
BEST SHORT
» Tracksmith Van Cortlandt Grand
As promised, Tracksmith is gonna show up early and often. The Van Cortlandt Grand shorts have been among the best running gear for years, and it's partly down to the not-too-short, not-too-long length. Tracksmith's 4-inch inseam is just about perfect, whether you're running or racing. The 4:09 mesh is the same as you'll find on other Van Cortlandt silhouettes, and the colorways are as classic as can be. Robbe's had a few pairs of the Van Cortlandt Grand for years, and we don't see him replacing them soon. Did we mention that there are six colors for men and women and five different sizes?
PRICE: $68
Shop The Short – Men
Shop The Short – Women
HONORABLE MENTION: YMR Track Club Torekov ($95)
We don't always love 2-in-1 shorts, we'll admit it. In fact, we usually prefer either shorts or half tights, but sometimes we make an exception. YMR Track Club's Torekov shorts are one of the exceptions. You'll find a thigh pocket on the inner layer and a zipper pocket on the outer layer, and there's more than enough storage to keep you stocked for road days and trail days.
» Rabbit Shredders – Best Trail
The roadies weren't the only runners in on Rabbit this year. Taylor covered plenty of tricky trail terrain in his pair of Shredders. They're relatively similar to Rabbit's FKT shorts, though they pack in the pockets to keep you well-stocked. The waistband offers four mesh pockets that stretch all the way around, and a zippered pocket on the bag is big enough to hold your phone. Rabbit's Shredders are like having a kickass pair of shorts and a full-on utility belt without needing a separate garment.
Rabbit's Shredders are only available for men, but the Smashems silhouette is an equivalent option for women, so we've linked it below.
PRICE: $75-78
Shop The Short – Men
Shop The Short – Women
---
BEST SINGLET
» Ciele RCDSinglet Elite
Yeah, Ciele makes clothing now. Well, not just clothing, but elite clothing. The RCDSinglet doesn't reinvent the racing top, but it does take the overall experience to a new level. It's made from recycled fabric that incorporates carbon fiber because of course it does. I guess you can match your carbon fiber singlet to your carbon fiber shoes for the ultimate pop. Ciele added vents to the spine, which should help the body to speed up its natural cooling process. In our experience, the RCDSinglet feels pretty much weightless on the run, and there's no chafing.
PRICE: $100
Shop The Singlet – Men
Shop The Singlet – Women
HONORABLE MENTIONS:
On Tank-T (Men, $70)
Is there a difference between a singlet and a tank top? It's up for debate, unlike the fact that a hotdog is not a sandwich. What's not up for debate is apparel from On. The Swiss engineering shines through the materials and the overall construction — shout-out taped seams. This Tank-T is made from a light, thin Japanese knit, which is as soft as it is premium.
Asics Actibreeze (Women, $70)
Well, one way to ensure you stay ventilated on the run is to have extra holes. Sure, there's a neck hole and two arm holes, but the Actibreeze singlet is covered in countless other small holes to let the air flow freely. It's light as a feather, partly because there's not all that much material, but we're not complaining.
---
BEST LONGSLEEVE – LIGHTWEIGHT
» Tracksmith Brighton Base Layer
Bears are still Catholic, and the pope still shits in the woods, so you better believe the Brighton Base Layer is still among the best running gear for 2022. I don't know how many times we've praised this merino wool top, but here's another for good measure. It's light, it's colorful, the torso has small holes for ventilation while the arms are nice and cozy — what else can we say? Thomas has a few Brightons that are almost old enough to be in second grade, so it's a long sleeve top that's not gonna let you down. Just note that this is our pick for a lightweight long sleeve because there are some days when you need a little more.
PRICE: $88
Shop The Shirt – Men
Shop The Shirt – Women
HONORABLE MENTION: Satisfy Running Cloud Merino ($340)
Alright, yes, the Satisfy Running Cloud Merino is expensive. We're not gonna sugarcoat it. However, it's a pretty darn good long sleeve, and each is hand dyed in Japan. According to them, Satisfy's CloudMerino wool is the thinnest in the world, and hey, who can argue with natural odor resistance?
---
BEST LONGSLEEVE – MIDWEIGHT
» Artilect Flatiron 185 Base Layer
Takin' it up a step, we like Artilect's Flatiron 185 for the days that are just a bit colder. It's a little heavier than Tracksmith's Brighton, but not to the point that it'll roast you alive. Artilect made all the right design choices — flatlock seams, gusseted underarms, and an easy loop for hang-drying. It's made from Bluesign-approved Nuyarn merino, which is supposed to offer five times faster drying and long-term durability. Artilect recommends the Flatiron 185 for snowy mountain activities, so this might be perfect for a winter trail exploration.
PRICE: $130
Shop The Shirt – Men
Shop The Shirt – Women
HONORABLE MENTION: Saysky Clean Pace Long Sleeve ($77)
Saysky might not have taken too many top honors among the best running gear of 2022, but it's been one of the most reliable brands of the year. Its Clean Pace Long Sleeve is made from SayskyDry fabric, which is lightweight but wicking — two must-haves when you're layering for the cold. This long sleeve is also brushed on the inside, so you know its baby's bottom soft.
---
BEST LONGSLEEVE – HEAVYWEIGHT
» Kora Yushu
If ya don't know Kora, now ya know. This is our top heavyweight long sleeve pick, and it's as warm as they come. It's made from a blend of 60% yak wool and 40% merino wool, which sounds 100% soft and cozy. This is also a great long sleeve for hiking and backpacking, as the design team added extra merino panels under the arm and on top of the shoulder for extra strength. It's not a requirement to be among our best running gear of 2022, but we're always happy to see ultra-flat seams that keep skin irritation to a minimum.
PRICE: $130
Shop The Shirt – Men
Shop The Shirt – Women
HONORABLE MENTION: Brooks Notch Thermal 2.0 ($85 (Men's), $90 (Women's))
The notch thermal has always been one of our favorite pieces of Brooks apparel, and the 2.0 version adds some nice touches, like a watch peek for the sleeve, a perennially-excellent feature that will automatically move you to the top of the running apparel standings. Throw in an ultra soft brushed interior, a rear hang loop, and a small zippered key pocket and we're sold. Did we mention it's ultra-warm? We wore just this in 28F temperatures this morning and it felt great the whole time.
---
BEST RUNNING TIGHT
» Tracksmith Turnover
Call us a broken record, we don't care. Do you know how many times we've used this exact image to show the Tracksmith Turnover Tight? We don't either because it's just that popular. These have been our top tights for several years, and they're aging like fine wine. They're made from Tracksmith's tried and true Inverno fabric, which is heavy enough to keep you warm but light enough to breathe. You can get a lined version for a few extra bucks if you need even more warmth. Could there be a few more pockets? Sure, but what can you do?
PRICE: $128
Shop The Tight – Men
Shop The Tight – Women
HONORABLE MENTION: Rabbit Pocket Tightz ($100)
If we're not rockin' with the hare, we're rockin' with the Rabbit. The Rabbit Pocket Tightz are pretty much how they sound — tight, form-fitting, and packin' pockets. There's a deeper pocket on each thigh and a zipper pocket in the back, so you should have plenty of space for your phone and some running nutrition.
---
BEST RUNNING PANT
» Janji Transit Tech Pant
Robbe has gotten more miles out of the Transit Tech Pant than most of us get from a pair of shoes. It's one of his fall and winter go-to's, so basically a lock for the best running gear of 2022. Whether you're headed to the office or dropping the kids at daycare, the Transit Tech Pant's value is its versatility. There's also a DWR finish, so you can wear them on rainy or snowy days and keep your legs cozy and dry. Janji added zippers to both hand and side pockets for extra peace of mind if you're wearing the pants for actual transit.
PRICE: $94
Shop The Pant – Men
Shop The Pant – Women
HONORABLE MENTION: Nike Dri-Fit Phenom Elite ($105)
The Swoosh's trail running shoe traction has been hit or miss over the year, but the apparel is always hot. These Phenom Elite pants fit right in, offering slightly shorter legs with narrow openings so you don't get tangled up on the trails. They are almost impossibly lightweight so they almost don't feel like they're there. There are so. many. pockets. you almost don't know what to do with yourself, but that's your reminder to bring more snacks. Also… they just look awesome, so you can rock these as lifestyle gear as well.
---
BEST RUNNING JACKET
» Outdoor Vitals Ventus Active Hoodie
Let's be honest — Taylor probably would have thrown a fit if we skipped over his favorite hoodie of the year. Outdoor Vitals had a strong showing in 2022, covering hoodies and jackets like it's been around for decades. He equated the Ventus Active Hoodie to a croissant, praising it for nailing the often complex formula needed to create a great jacket. It's warm, wind resistant, and adaptable, and Outdoor Vitals managed to keep the weight well below that of most other fast-packing jackets. We're not sure where the croissant comes in, but we can't argue with a well-balanced breakfast.
PRICE: $180
Shop The Jacket – Men
Shop The Jacket – Women
HONORABLE MENTION: Adidas Terrex Trail Windbreaker ($81 – Men, $90 – Women)
If you've seen Robbe in the last few months and he wasn't running on a road, he was probably wearing a Terrex Trail Windbreaker. It offers just the right mix of color, wind resistance, and comfort with Adidas' Wind.Rdy fabric. And, of course, we're always happy with a jacket that packs neatly into a pocket.
---
BEST WATERPROOF JACKET
» Asics Accelerate 2.0
We do our fair share of running in the cold and wet (thanks, Baltimore), so we've learned a thing or two about waterproof jackets. Asics isn't just having a running shoe renaissance, its gear is pretty good, too. The Accelerate 2.0 is fully sealed and made with a multi-layer construction that should keep rain and wind out while letting your body ventilate. There are plenty of pockets to store your phone and nutrition, but the jacket is trim and tight, focusing on keeping you moving with minimal bagginess. It does come in three colors, but we're partial to Lichen Green on the men's side.
PRICE: $165
Shop The Jacket – Men
Shop The Jacket – Women
HONORABLE MENTION: Janji Rainrunner Pack Jacket ($198 – Men, $198 – Women)
If you read our recent jacket roundup, the Rainrunner should come as no surprise in the best running gear of 2022. It's not exactly a winter coat, but good luck getting any rain through it. The latest Rainrunner is three times more water resistant than the previous one, which was already unreal. The 30K/30K water and breathability rating pretty much means that the jacket will let air and sweat out, but nothing is coming in.
---
BEST RUNNING HAT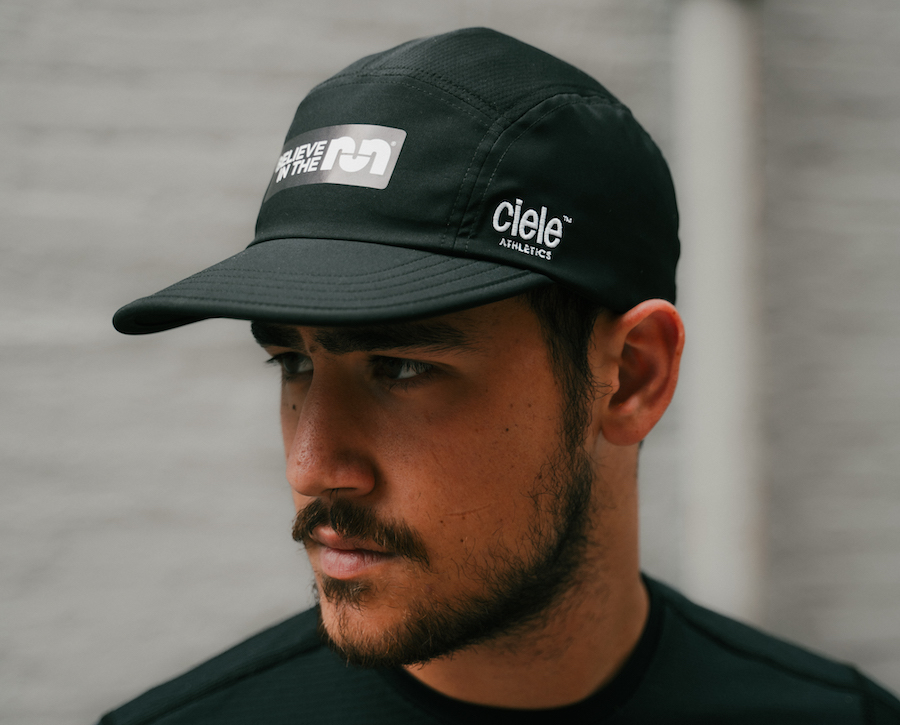 » Believe in the Run x Ciele CLB Cap
I know, I know, we try to recommend products that you can actually buy. Well, you can buy the Ciele CLBcap, just not this version. We're just really proud of our collaboration, which has been in development for a good long time. It's black — as on-brand as it gets — and the CoolWick fabric is a moisture-wicking hug for your head. You probably already know all of this because y'all bought a ton of the hats, and it's already sold out. Either way, it's one of the best pieces of running gear for 2022, and we're happy to be a part of it. Keep checking back for a restock coming in early 2023.
PRICE: $45
Shop The Hat
HONORABLE MENTION: Path Projects Zion Cap ($31)
Alright, if we have to pick a runner-up, it's probably the Path Projects Zion Cap. It deserves a place among the best running gear of 2022, just not the top spot because we didn't design it. Path Projects chose a perforated material for the entire cap, but the holes are small enough that you won't get a funky sunburn while you wear it, don't worry. Also, it just looks good?
---
BEST POST-RUN APPAREL
» Rabbit Running – High Country Jacket, EZ Joggers, and EZ Tee LS
We could sit here all day and talk about recovery clothing, but we won't. Only because it would make our Best In Gear Awards even longer, and we know there's already so much to digest. Quite simply, picking Rabbit was an EZ decision — get it? Their EZ fabric is just so soft and comfortable, it's a miracle we don't all wear it all day long. Some of us do, but not all of us. If you've been following our TRE 2022 coverage, you also know that Robbe and Brandon went to Austin fully suited up in the High Country Jacket. It's equal parts flannel and jacket, just like your grandpa would wear, but without the mothballs smell. These aren't the only EZ options, either, you can get it in quarter zips, tank tops, and short sleeve shirts, too. Oh, and underwear. Can't forget the underwear.
PRICES: Jacket – $150, Joggers – $88, EZ Tee LS – $55
Shop The Jacket – Men
Shop The Jacket – Women
Shop The EZ Collection – Men
Shop The EZ Collection – Women
» Bandit Running – Current Hoodie, Bandit Sweats, and Socks
We're all familiar with the idea of running a race as a bandit, but now you can run a race dressed like one. Bandit roared into the best running gear of 2022 with a bunch of apparel drops, mostly centered around solid color blocking and premium materials. Black and white options are mainstays, while other colors like Backhill and Olive add some fun to the mix. All that matters is that Bandit has some great hoodies and sweatpants — two things you'll find us in from about October to April. There are also socks because if you're gonna go Bandit, you've gotta do it from head to toe.
PRICES: Hoodie – $120, Sweats – $80, Socks – $36
Shop Bandit – Men
Shop Bandit – Women
Shop Bandit Socks
---
BEST RUNNING SOCKS
» Bombas
You know 'em, you love 'em, it's Bombas. There's a reason that Bombas is one of our occasional sponsors, and it's because they make some good-ass socks. There's also a Bombas for just about everything, from hiking to racing, and even for kids. We wore Bombas for the New York City Marathon, and not a single toe found room to complain — that's enough to land it in the best running gear of 2022 on its own. Robbe's kids might like the socks even more than he does, which is saying something. You can even save 20% on your first order with the code BITR20.
PRICE: Varies
Shop The Socks
HONORABLE MENTION: Swiftwick Flite XT Trail Five ($27)
There might be a Bombas for everything, but the Swiftwick Flite XT Trail Five is just for the wilderness. It'll also take you the equivalent of running a 5K to get the name out. Tongue twister or not, we're not the first to heap praise on this sock, and the GripDry Fiber is going to keep it locked on our feet — and in our hearts — for a while.
---
BEST WINTER HAT
» Saysky Merino 165
Merino, merino, merino. If it's in a product, there's a good chance we love it. Saysky is back on our list of the best running gear of 2022, thanks to one of our favorite hats right now. We haven't made a BITR performance beanie yet, anyway. The 165 in the name comes from Saysky's 165gsm merino fabric, which is warm enough for the transition between seasons, yet not so warm as to cook your noggin. Right now, this hat comes in either black or what we'll call "mime stripes," but you can't go wrong with either version.
PRICE: $51
Shop The Hat
HONORABLE MENTION: Artilect Walrus Beanie ($40)
We might not know the egg man, but we sure do know the Walrus, at least if we're talking beanies. This is a newcomer to our apparel collection, but it's become a fast favorite. It's designed for life in the mountains thanks to extra stretch and durability from a unique weave pattern. Honestly, have you even lived if you've never worn a merino winter hat?
---
BEST WATER BOTTLE
» Nathan Speedraw Plus
Boy, this fall marathon season was brutal. Almost every major race faced warmer-than-expected conditions, often paired with an unhealthy dose of humidity. That's what we faced in New York and Richmond, but the Nathan Speedraw Plus was a trusty companion. It comes with an 18 oz. double-walled capacity, which is big enough to keep you hydrated and thick enough to keep your water cold. The little zipper pouch is also large enough to keep a full race's worth of gels inside. Nathan's internal insulation is also reflective, which means you can tote this all night long if you need hydration after dark.
PRICE: $37
Shop The Bottle
---
BEST SUNGLASSES
» Article One Active Collection
It's tough to pick just one pair of sunglasses as the best of 2022, so we're not gonna do that. Yes, Article One is listed first, but each of our picks offers something a little different. The Active Collection includes multiple silhouettes, each designed to be as effective on the run as they are in everyday life. You can choose from the Moon, the Emmeline, the Barron, and the H, each with slightly different styles. There are plenty of colors to choose from, and nobody will ever realize that you're wearing running sunglasses — unlike if you wore shields.
PRICE: $199
Shop The Sunglasses
HONORABLE MENTIONS:
Ombraz ($150)
Ombraz offers something else entirely — armless sunglasses. That's right, no arms, no problem. Instead, they strap onto your head with a thin bungee and stay there. You can choose from a few different frames, ranging from round to square, and you'll never have to worry about having too big of a head.
Goodr ($25 and up)
At the other end of the spectrum, we have Goodr. If you're not too worried about beating up your shades and you fully expect to replace them once or twice, Goodr is your guy… er, flamingo. We love everything about them — color names, lens shapes, styles — all of it. However, there aren't a ton of options for those among us with big heads, so boo.
---
BEST PACK
» Weis Simer II 10L Vest
It's alright if you don't recognize the Weis brand yet — they're still pretty new to us too. However, they've become a fast favorite of Taylor's on the trail side, and he had to hound them for review samples at TRE last year. Not because they didn't want us to review their packs but because they wanted to make sure we weren't just after free stuff. Well, the persistence paid off because the Simer II is excellent. Taylor called the Simer II 10L the rookie of the year, bringing pockets and plenty of potential to a scene dominated by giants. This is also one of the best-fitting packs Taylor has talked about in a while.
PRICE: $140
Shop The Pack
HONORABLE MENTION: Ultraspire Momentum 2.0 Race Vest ($95)
The Momentum 2.0 race vest took our top pack honors in last year's best running gear picks — seriously, the badge is still on their site. It probably would have been a repeat champion if not for the excitement that came along with the Weis Simer II. The Momentum 2.0 is more of a vest than a pack, so the pockets aren't all that deep, but there's still ample space for two handheld bottles.
---
BEST WATCH
» Coros Apex 2 Pro
How long have we been Coros truthers? I dunno, how long has Coros been around? Probably since day one. While many of us opt for the tried and true Pace 2 (mentioned below), there's something to be said when a new watch comes around. The Apex 2 and Apex 2 Pro dropped earlier this year, and they're the best that Coros has to offer. They offer longer battery life — up to 75 hours of GPS on the Apex 2 Pro — and Grade 5 titanium bezels and back covers. It's a serious step up in the materials department, and the sapphire glass display now has a PVD coating for even more scratch resistance. Add in a ridiculously long battery life and cleaner interface and text/graphics, and you have a watch that can't be beat. Coros also is continually improving its products so that two years down the road it still feels like you have a new watch. The Apex 2 and Apex 2 Pro are a great sign that the future is bright in Coros land.
PRICE: $499
Shop The Watch
HONORABLE MENTION: Coros Pace 2 ($199)
The Apex 2 and Apex 2 Pro are new and shiny, but how can you top an old favorite? We still absolutely love the Coros Pace 2 with its simple controls and clean design. One knob and one button are all we need to get through our workouts. Oh, and it's the same watch that Molly Seidel and Eliud Kipchoge wear — as if you needed another reason to buy one.
---
BEST POST-RACE MEAL
» Burger and fries
We ran a lot of races this year, and that meant a lot of chances to indulge in some of our favorite foods once we crossed the finish line. Our undisputed favorite this year was a burger and fries (and probably a beer). It's got everything: protein, salt, potatoes… I don't really know why we're justifying a burger and fries to you. If you wanna eat something else, go for it. If you want an impossible burger, that's fine too. We're gonna keep asking our guests on The Drop what their post-race meals are, and feel free to let us know your favorites, too.
PRICE: Varies
Accessories
Best of BITR
Bottoms
Hats
Men's
Tops
Womens