Winter Running Gear Guide: The Best Gear to Brave The Cold
What You Need To Know
Or, how we learned to stop worrying and love the cold
We've picked out a few must-have items to help you get by
There's plenty of time to stock up before GRIT kicks off
This review is sponsored by Bombas socks, which we've been using to keep us warm and comfortable this winter (like the men's Merino wool ankle sock shown below). You buy one, they give one to someone in need. Use code BITR20 to save 20% off your first order!
Winter is coming. We're still not talking about Game of Thrones after season 8 ended the way it did, but the words of House Stark still apply. It ain't the warm days of summer or the crisp days of fall anymore. The mercury is dropping, and it's time to layer up. With that in mind, we've decided to follow our summer running guide with its cold weather companion. Here's the best winter running gear to keep you warm.
We've grabbed a few favorites from the entire spectrum of running products. That means we've got clothing and accessories, and we've split it all up based on temperature. We'll start each section with an explanation of what you probably need and then jump right into some picks. Although none of our selections are bound to shave minutes off your PR, we can at least help you add some style points, which is all that matters, right?
Anyway, style points or not, we base our gear picks on our own experiences here at Believe in the Run. We've either tested our picks or know someone who has, and we stick with options that you can actually buy. Otherwise, we'd probably recommend you become friends with Heat Miser in a hurry.
---
Winter Running Gear (40-50°F)
» Tops
This is what we like to call no man's land. Going from 40F degrees to 50F degrees is a pretty wide range, especially as you warm up over the course of your run. Some might turn to a t-shirt for temps at the higher end, while almost everyone will reach for a light long sleeve shirt at the lower end. Either way, you want to keep your core warm, no matter the temperature.
» Bottoms
Again, dealer's choice here. We'll fluctuate between shorts at the higher end of this range and light, unlined tights at the lower end. Heck, it's the perfect spot to rock a pair of half tights, kinda like the best of both worlds.
Tracksmith – Half Tight ($78 – Men's Reggie, $78 – Women's Allston) Tracksmith likes to switch up the names between men's and women's apparel, but we won't hold it against them. You can't go wrong with either pair of half tights, though they have slight differences in their inseams. Either way, you have quite a few colors to choose from.
Roark Run Amok – Alta 5-inch ($85) I know, it's weird to see two pairs of shorts on a winter running gear roundup, but hear us out. The rest of our picks for colder weather are all full-length, so you can always dip down there for more recommendations. In the meantime, the Alta 5-inch short is just right for those chilly but not cold days. It thrives on a simple, four-way stretch design and a few well-placed pockets.
Bandit Superbeam Side Pocket Half Tight ($118) – Yeah, they're pretty pricey. But they're made with "Italian wicking compression SuperBeam fabric for a cool, smooth, chafe-free experience." And it's true. The compression style both keeps warmth in and makes you quite aerodynamic, while giving you coverage down to the knees. We especially enjoy the side pocket, perfect for holding an iPhone safe and secure. The women's version ($78) is only 3″, so may not be suitable for winter running, but it's pretty great whenever a warm spell comes along.
» Accessories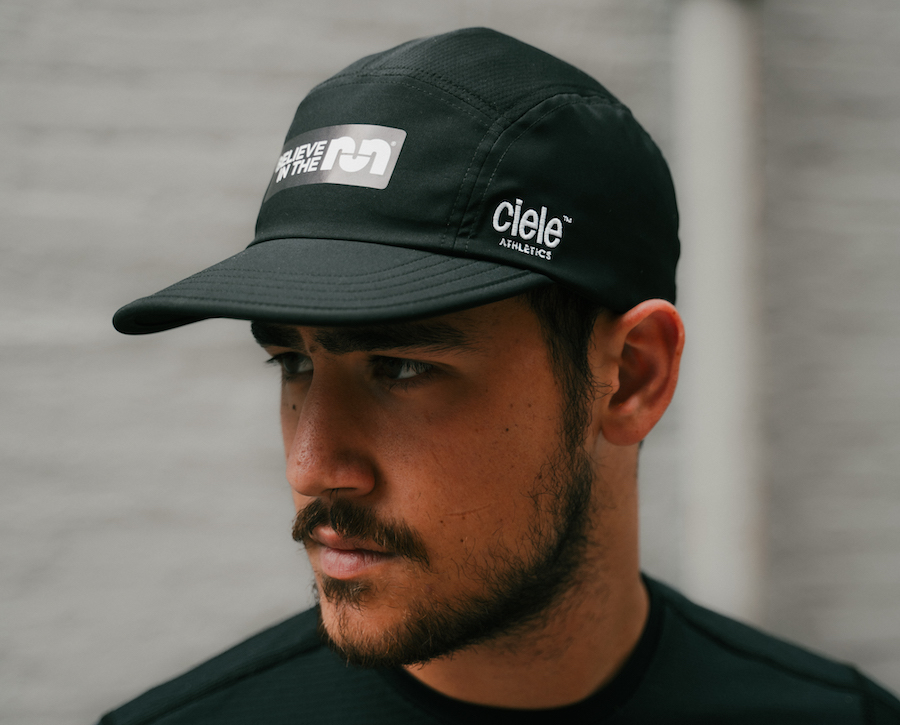 We're big hat people, but we're not always going for a beanie at 50 degrees. Instead, you can probably get away with your favorite running cap, at least if it's sunny and not too windy. You should also check out a light pair of gloves, which can keep your hands warm well into the next temperature range. Socks are important, too, so you can probably guess what we've picked…
Bombas – Ankle Socks (Price varies) What were we gonna do, not pick our favorite socks? A good pair of ankle socks will serve you well at warmer temperatures, but Bombas has something for everyone. We particularly enjoy the merino ankle sock with our running tights, but for colder temps you can grab some crew socks and stay covered in any weather.
Believe in the Run x Ciele – Cap ($45) Yes, it's sold out at the moment, but never say never. We're pretty proud of our collaboration, and we've heard there might be a chance of a restock in the future…
Rabbit – EZ Gloves ($30) Rabbit treats its EZ fabric like Frank's Red Hot — that shit goes on everything. Shirts, tights, underwear, and even gloves come in the famously soft and smooth fabric. You can choose from two different colors, and these gloves work well for all warmer temperature ranges.
---
Winter Running Gear (25-40°F)
» Tops
If you thought 40 degrees to 50 degrees was tricky, this is even tougher. It's easy to want to overdress when it gets this cold, but it's better to plan carefully — especially for long runs. We're usually set up with a light base layer, which we sometimes pair with a running vest. As above, the goal is to keep your core warm without overheating your extremities, which is exactly what a vest is good for.
» Bottoms
Only the bold wear shorts in this range so most will be in the market for tights or running pants. You should be fine with an unlined pair, especially if it's windproof. Not much else to say, just find some tights and double up so you don't have to do as much laundry.
» Accessories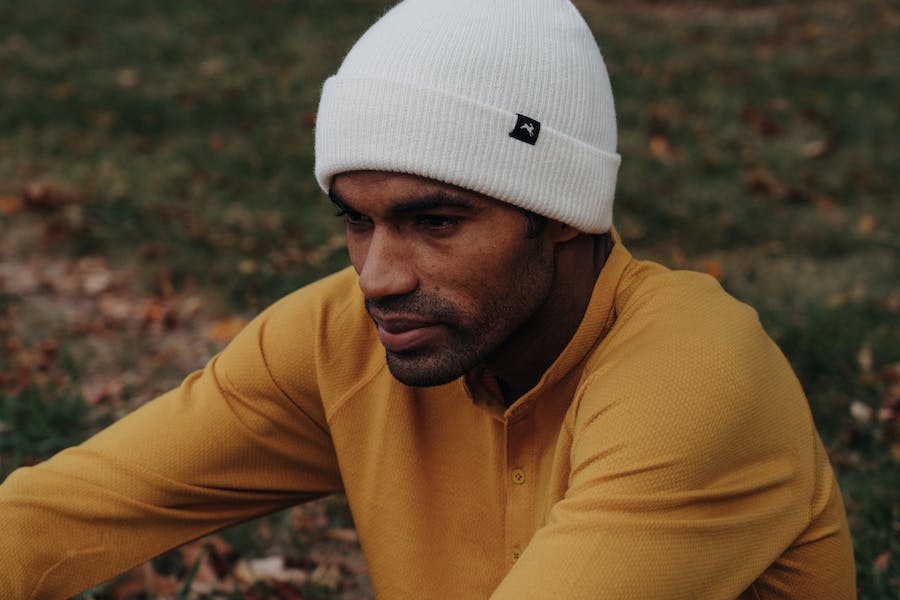 Alright, it's time to get serious about winter running accessories. Neck warmers and beanies (or headbands) are a lot more popular once you dip into the 30s and below, and you might want to think about midweight gloves, too. If you live in a windier area, sunglasses aren't a bad idea for protecting your eyes.
Decathlon – Kalenji Tactile Running Glove ($10) You might not know the name Decathlon, but you can bet we know a value. $10 is never too much to spend to keep your hands warm, especially when the gloves have touch-sensitive thumbs and index fingertips. Even better, they come in six different sizes.
Smartwool – Merino Reversible Headband ($30) Merino, take a shot! Honestly, headbands can work for just about anyone, even though the link says "women's." All you gotta do is get it around your head and run with confidence.
Smartwool – Merino 250 Neck Gaiter ($32) More merino, take another shot! A happy neck is a warm neck, after all. This gaiter is made with 100% merino fabric, so you already know it's gonna be cozy and odor resistant. There are a few different color to check out, and it should stretch to fit any head.
---
Winter Running Gear (10-25°F)
» Tops
Layering becomes increasingly important as the temperature drops. A single long sleeve is usually not enough at this point, but you don't want two heavy layers, either. Instead, we like to go with a mid or heavyweight merino layer and a well-ventilated jacket. The two combine to wick moisture off your body and keep you dry, which is really what it's all about.
» Bottoms
Tights, tights, and more tights. Layering is important for your bottom half at this point, too. If you don't have heavy or lined tights, you can pair a lightweight pair with a thin base layer for double coverage.
Rabbit – Pocket Tightz Fleece ($115) The most important feature of these tights is right there in the name — Pocketz. Well, pockets, but we'll forgive the spelling. It's just nice to have somewhere to stock your phone, keys, and whatever nutrition you might need for a long run. The elastic ankle locks aren't our favorites, but we're learning to position them carefully.
Path Projects – Shasta Base Liner ($46) Think of the Shasta as a thicker version of the Tahoe CL. It's slightly heavier, making it a better bet for even colder weather, but it comes in far below the price of most tights. You'll probably want another layer on top of the Shasta, but you'll be glad you have the soft, wicking fabric right up against your skin.
Tracksmith – NDO Tights ($198 – Men, $198 – Women) You won't find too many tights more expensive than these, but Tracksmith knows how to prep for the elements. The NDO tights shift their pockets to the back side to keep them out of the wind, while 360-degree hits of 3M keep you visible when the light is low.
» Accessories
We might be starting to sound like broken records, but as it gets colder, your winter running gear should get heavier. This is the time for heavier hats and gloves, as well as neck warmers and thicker socks. Basically, if it's on your extremities, make sure it's cozy and warm.
Brooks – Midweight Arm Warmer ($34) You might not think of arm warmers as an accessory for anything other than race day, but they can fit perfectly under long sleeves for some extra warmth. Heck, even if it's not all that cold, you can pair them with a singlet because it'll make you look faster.
Smartwool – Sport Fleece Wind Mitten ($50) Can't make up your mind between gloves or mittens? Why not both? Smartwool already makes some of the best accessories around, and these flexible hand coverings are worth every penny. you can switch to the gloves if you need to use your phone, while the mitten cover locks in just a bit more heat.
---
Winter Running Gear (Below 10°F)
» Tops
Take everything we've told you up to this point and add it all up. This is the temperature range where you'll want a little bit of everything in terms of winter running gear. Grab a heavier base layer and pair it with a warmer jacket — insulated if possible. You still want to make sure that your layers will wick sweat, though, because nobody wants to have frozen sweat built up under their clothes. If you can find a layer that takes out two birds with one stone, like a long sleeve shirt that goes right into a neck wrap, even better.
Tracksmith – Franklin Fleece ($148 – Men, $158 – Women) The Franklin Fleece might not be cozy enough to stand up to the elements by itself, but it pairs perfectly with a base layer and maybe a windproof layer if needed. It's one of the best layers for lounging around if you're taking a much-needed rest day.
La Sportiva – Session Tech Hoody ($139) La Sportiva's Session Tech Hoody is more of a jacket than a hoodie, but it blends comfortable fleece panels and recycled materials to block wind and keep the warmth in. As usual, you'll probably want a base layer underneath.
» Bottoms
Grab your cozy lined tights and slap a base layer underneath. Heck, maybe this is the point where you put lighter windproof pants on top of your tights. Either way, it's about keeping the elements out and the warmth in. Invest in some good base layering and you should do just fine.
Sugoi – Midzero Tights ($125) Thermal tights ain't cheap, but they're a must-have. Sugoi's tights are named for their warm midzero fabric, complete with flat seams and a comfortable crotch gusset. There's only one rear pocket, but you probably won't be fishing around for too much in temperatures this cold.
Daehlie – Winter pants 2.0 ($140 – Men, $140 – Women) Daehlie was a new brand for us last year, but it's grown out of a love for skiing. These winter pants are fleece-lined and sport contrasting colorful panels on the calves to keep you visible.
» Accessories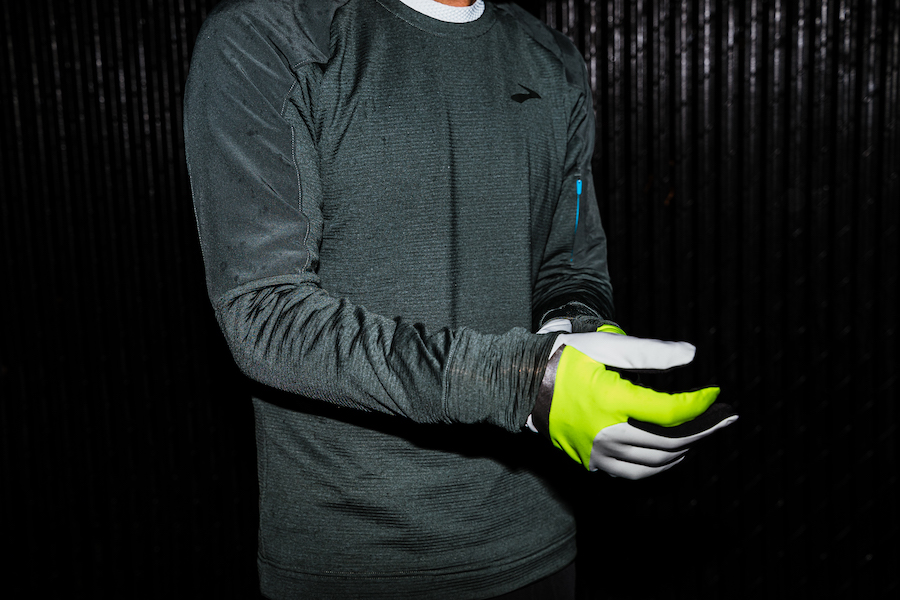 Man, how many ways can we say find warm stuff and wear it? Mittens, hats, maybe double up on gloves? Anything below 10 degrees is pretty damn cold. We had to call in the big guns (folks from the midwest) for some of these recommendations, and they vouched for some of these hats and accessories in subzero temperatures. If it's good enough for them, we believe it — we don't get this weather in Baltimore too often.
If you've got other winter running gear favorites, we'd love to hear about them. We've run in a lot of gear, but we haven't done it all, so leave other recommendations down below.
Accessories
Apparel
Bottoms
Tops
Winter